Friendship bracelets have been ALL over the interwebs over the last year or so and yes, I am jumping on the bandwagon and saying I love them! They are a great way to add a little personality to your outfit. The Man Repeller's Arm Party was the final push I needed to make me really want to sit down and make a few for this summer.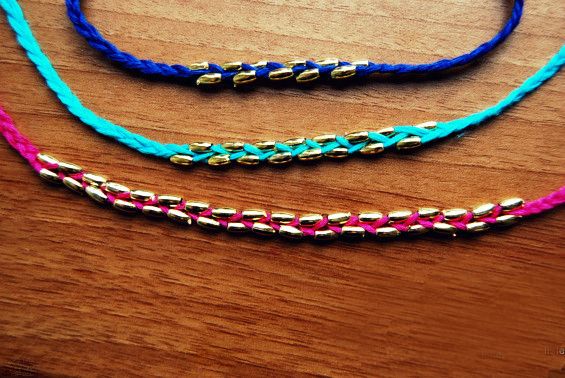 And, because I'm nice like that, I've written a short tutorial for you to make some for yourself too! Its cheap, its quick and it can look great.


You will need:
Embroidery thread, in colours of your choice
Beads
How to:
Take 3 equal length strands of your thread, tie the ends in a knot and safety-pin that to the knee of your trousers or other stable surface for easy braiding
Start to plait the threads in a basic plait and continue for the length you would like- it will depend on whether you want the beading all around your wrist or just in the centre. The picture above shows both examples.
Then, simply thread a bead on both of your outside threads and braid once. Then do this again, and braid.
You'll have to pull the threads tight and make sure the beads sit flat with each braiding.
Continue for as long as you like (just keep testing it against your wrist for the length you need) and then braid without beads to match the plain braiding you started with.
Tie a knot in the end to seal!
The easiest way to add a little DIY touch to your outfit, don't you think? Pop your links in the comments if you make some, I'd love to see!
xxx
P.S If you want to take a look at some of the other DIY's I've done, just click here
Bloglovin' // twitter // facebook // hello cotton