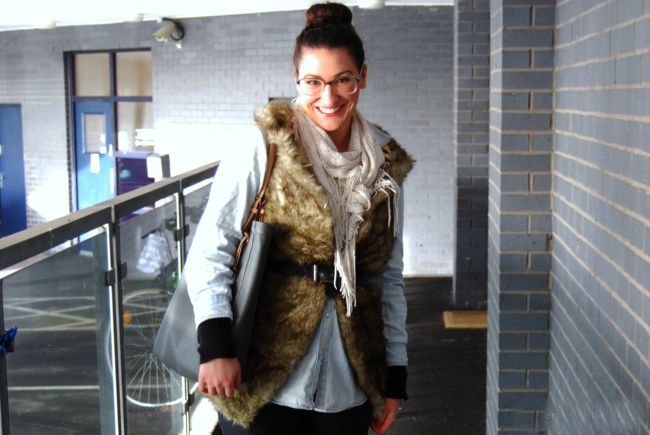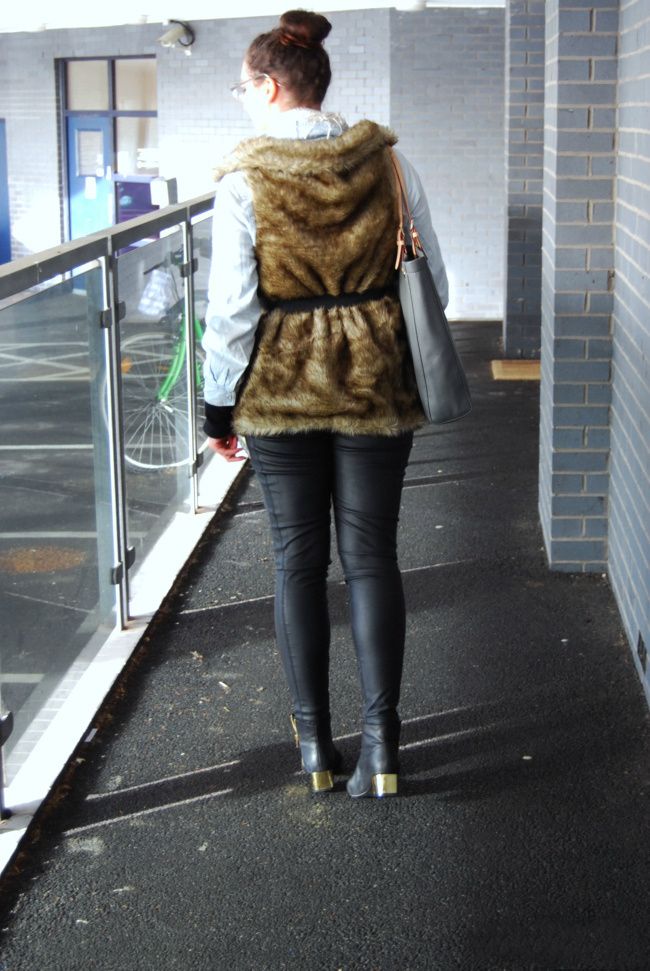 I have got a serious obsession with faux fur at the moment. I think Alicia is mainly responsible for this! She has some incredible coats and collars and I always want every one. So the last few months I have oohed and aahhed over all the gorgeous faux fur vests that there are in the shops and that I've seen on other bloggers, but I've just haven't been able to bring myself to spend the money on them- a lot are at least £40 which is more than I have spare on frivolities at the moment! Plus they really aren't a complicated thing to make! So what's a girl to do? I headed to my trusty fabric shop and decided to do it myself.
This really is so much simpler than you might think! Most vests can be based on one rectangular piece of fabric.
The inspiration: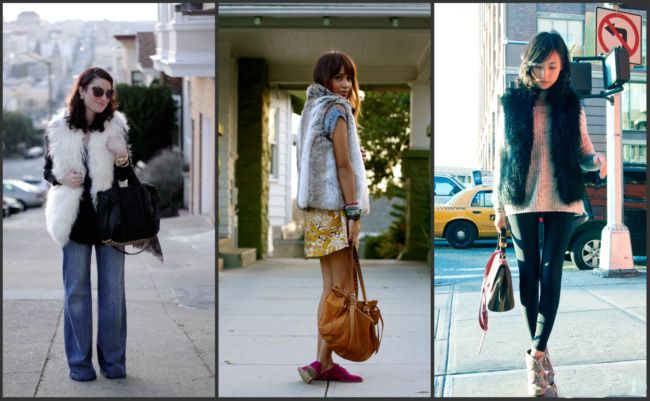 What you'll need:
about 1 meter of faux fur in a wide enough width for the length of your vest
Cotton thread and needle
Scissors
Pins
Tape measure
Chalk
What to do: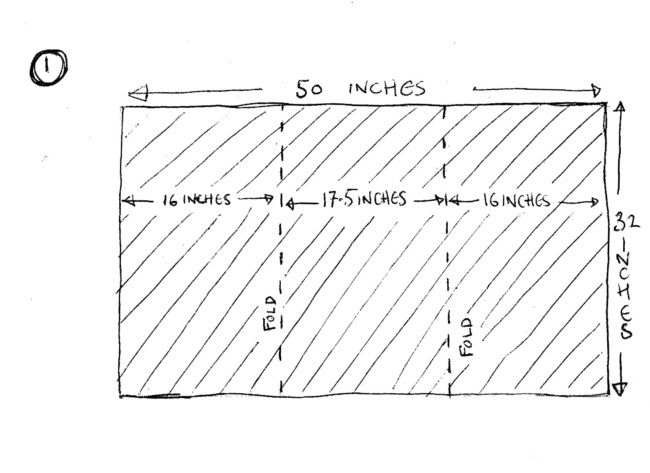 Lay your faux fur out flat on your work surface (I had to just use the floor. Queue a lot of fluff on my carpet!!) with the fur facing down away from you (the striped bits in my pictures are to show the inside of your vest)
Then measure how far apart you want your arm holes- I used a vest I had to work out mine and would say that the measurements above would be ok for any medium size girl. I'm pretty average in terms of my size and height.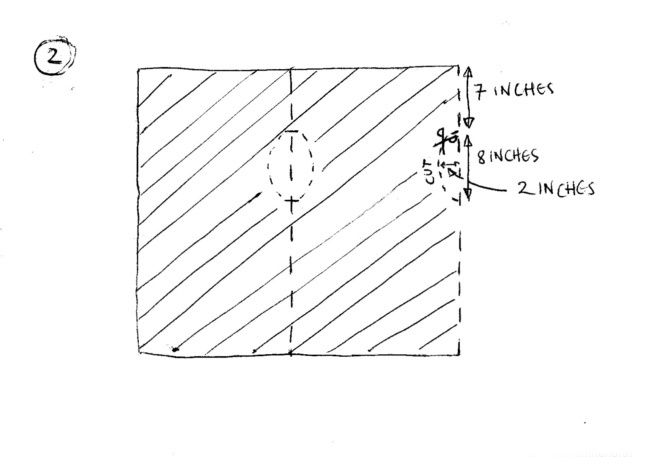 Mark the top and bottom of your armholes and how wide you want them with chalk, like the dotted lines in the picture above. 7 inches down from the top of the fabric left me enough fabric for a good collar. If you don't want a collar then I would do your armholes higher up. Likewise if you want a really big collar, then do your armholes lower down!
Once you've marked the fabric, fold the fabric along the lines shown in the first picture and cut out your armholes. Cutting the sort of semi-circle on the fold is much easier than trying to cut into the flat fabric, so the picture above shows the right hand side of the vest folded under to cut out the armholes. When you've made your armholes, you can then 'try on' your vest to check they are big enough. If you want to wear your vest over jackets or coats then you might want your armholes a little bigger than the sizes I've used.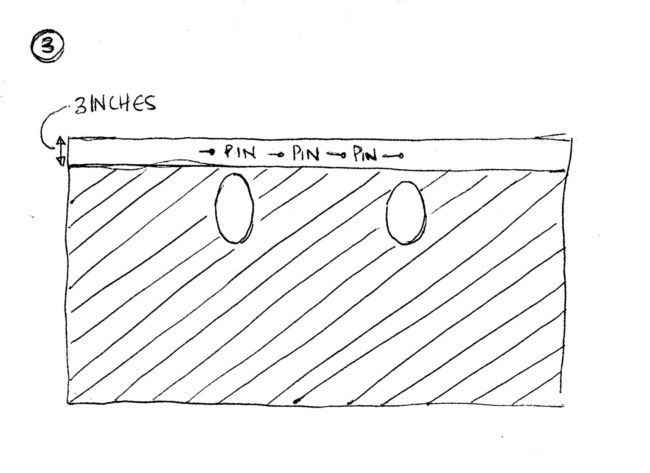 To make the collar, fold over the top three inches of your fabric, so the fur shows, and pin it. If you want a waterfall front on your vest, you simply need to hem all the edges of your vest by turning in and sewing them- then you are ready to pop it on and wear it!
I wanted a front which could close so I did a few more steps: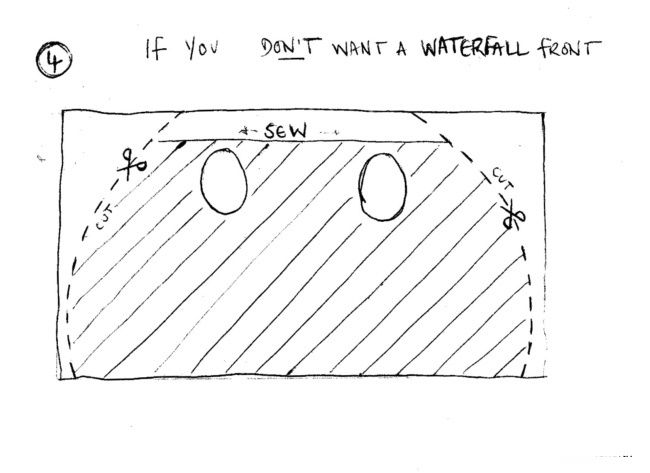 Cut the top corners of your rectangle of fur off- to make sure both sides are the same, fold your fabric in half along the centre in-between the two armholes, pin the two sides together and then cut. I found curving the lower half slightly helped the shape of the front fall better. Then sew the top collar fold, with a simple whip stitch. You can keep trying on the vest and seeing what you think of the front. Pins are your best friend at this stage!!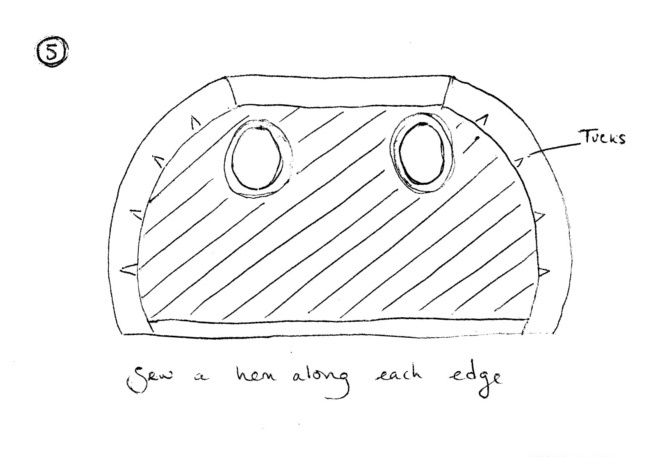 Finally, you can make your vest look a little bit more professional by folding in all the edges and sewing them again with the whip stitch. If doing the curved front you will need to make little tucks in order to make the fabric follow the curve. When you put this on, the collar will stand up, and all your edges will be fluffy! To make it even more slick, you can line the inside by cutting out a piece of fabric just smaller than the vest and sewing it in as you sew all the edges. (if you follow me on instagram you will have seen I did this with a pretty heinous piece of fabric! It makes me laugh every time I open the vest and then say to myself 'put a bird on it' and snigger some more!)
Really, this is so simple and cheap. The whole thing took me an afternoon (and would be much quicker second time around now I can just follow the instructions I made) and the fabric cost was only about £5 for this amount, which is much more to my budget!! I am completely in love with it and have already worn it so much. The young man even told me I looked glam!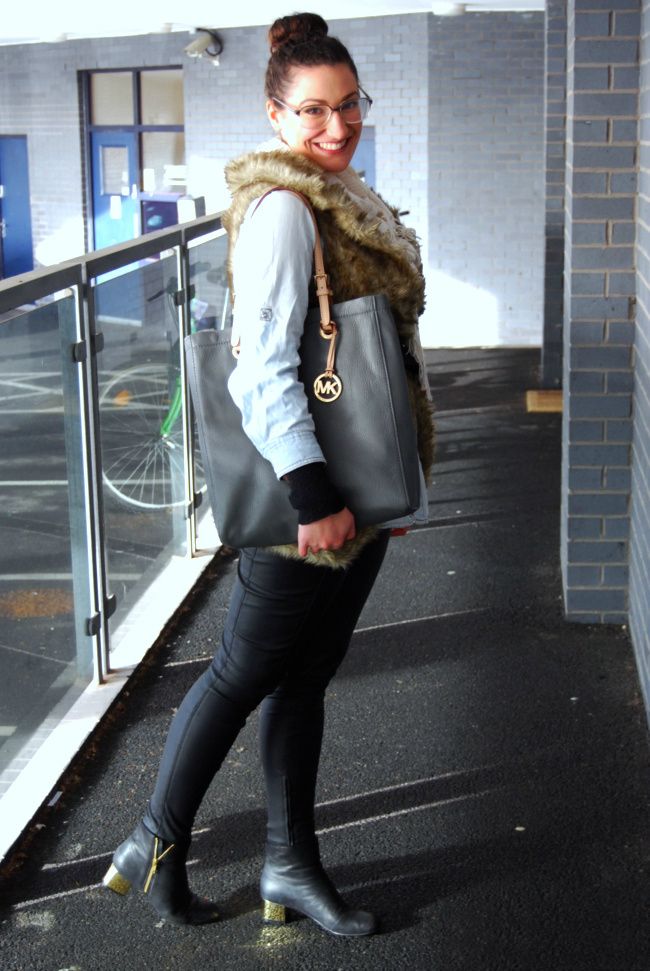 Wearing: Faux leather trouser and boots: Topshop; denim shirt: Primark; belt and scarf: vintage; Faux fur vest: DIY; Handbag: Michael Kors
If you have a go at this, I would LOVE to see the pictures!
xxx