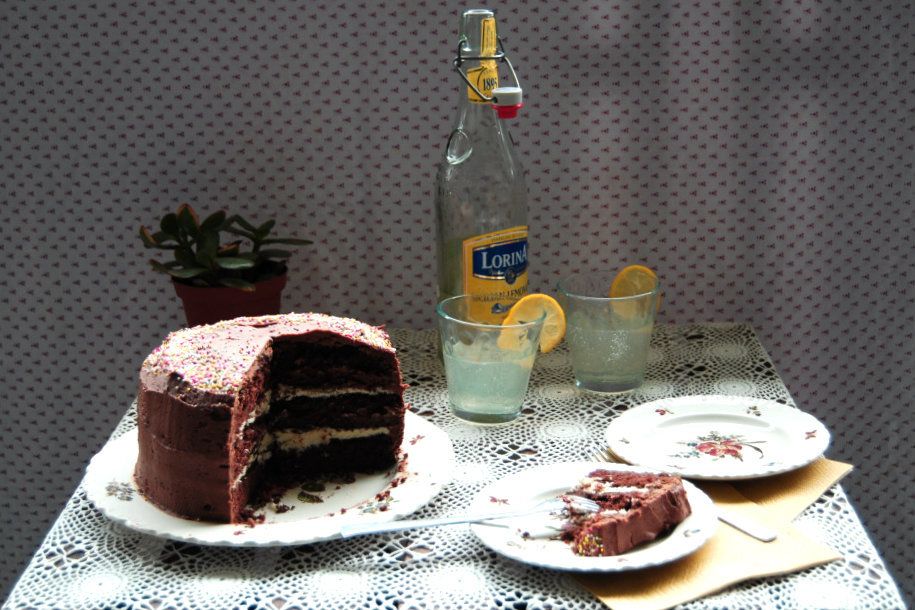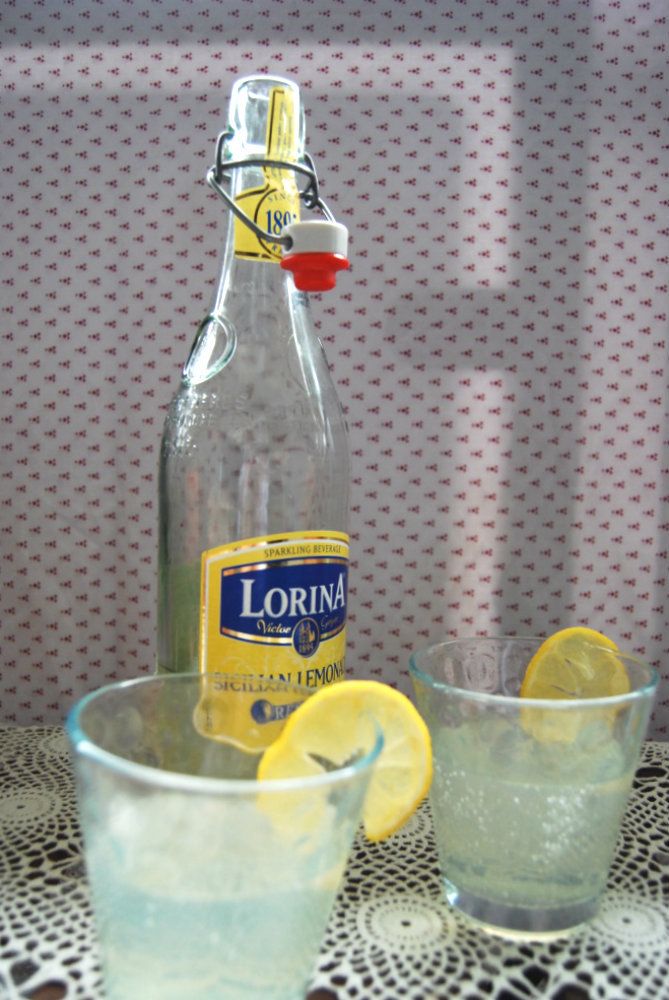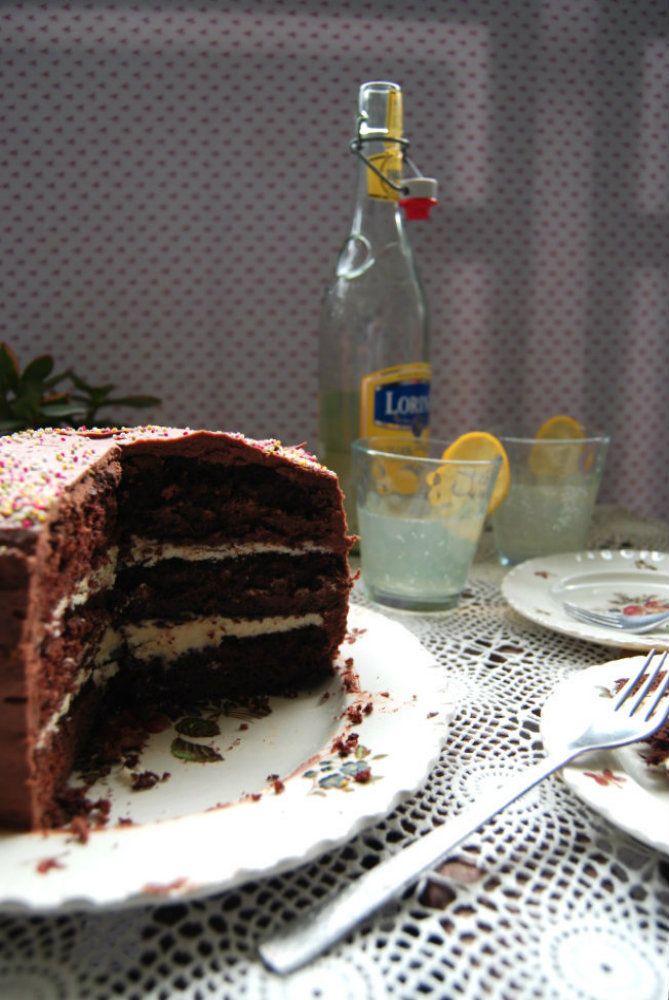 Congrats to the Queenie! Jubilee weekend is here! Its funny how nostalgic us brits can become with a few waves of the flag and some bunting! We all pull out the sponge cakes and Pimms in an instant. So, a celebration weekend calls for a good old celebration cake! If you're stuck for a great recipe, this is my favourite ever. It never fails me and always tastes so good. So good in fact, that I wasn't able to take photos before the young man ate some! Fudgy cake and creamy icing, all ready for pretty decoration and big slices. Perfect to share with friends with a glass of Lemonade!




For the cake
*adapted from Joy the Baker's Red Velvet Cake*
Ingredients
8 Tablespoons room temperature unsalted butter
340 g granulated sugar
2 eggs
5 tablespoons unsweetened cocoa powder
4 tablespoons red food colouring mixed with 2 tablespoons water
1 teaspooon vanilla extract
250ml buttermilk
510 g flour
1 teaspoon salt
1 teaspoon baking soda
Method
Preheat oven to 180C and prepare your cake tins. I used three shallow cake tins for more layers but two 9-inch pans should be fine! Butter and flourthe tins so your mix doesn't stick.
Cream butter and sugar together until pale, light and fluffy. Mix your eggs in a small bowl and whisk together. Add them to the butter-sugar mix bit by bit.
In a different bowl, the cocoa, vanilla and red food colouring into a paste, and then add to the butter-sugar batter to colour it all.
Add half the buttermilk (pssst if you can't find any, you can make your own by adding some lemon juice to milk *link*) and mix, then add half the flour,salt and baking powder. Do the same again until all mixed and smooth.
Then just pour the mix into the cake tins and cook for about 25-35 mins or until a skewer inserted into the centre comes out clean.
Leave the cakes to cool for about 20 mins before turning them out of the pan (otherwise they can crack and break) and makes sure they are compeltely cool before icing.
For the Icing
*recipe from the Primrose Bakery cookbook*
Ingredients
110g unsalted butter at room temperature
60ml milk
1 teaspoon vanilla extract
500g of icing sugar
80 g dark chocolate (optional)
Method
Mix butter, milk, vanilla extract and half the icing sugar until smooth. Then slowly add the remaining icing sugar until smooth and creamy.
If you would like some chocolate icing too, then melt the chocolate and add to half the icing. If you want to colour the icing, add your food colouring drop by drop and mixing in between each drop to make your desired colour.
Some ideas
To make it extra Jubilee appropriate, why not colour the icing red and blue, as well as leaving some uncoloured for white?
Add some cute cake bunting with union Jacks for a patriotic touch! You just need some kebab skewers, string and to print off some union jacks. For a basic tutorial, you can click here
xxx
if you like what you see, follow along here:
Bloglovin' // Twitter // Facebook // Hellocotton