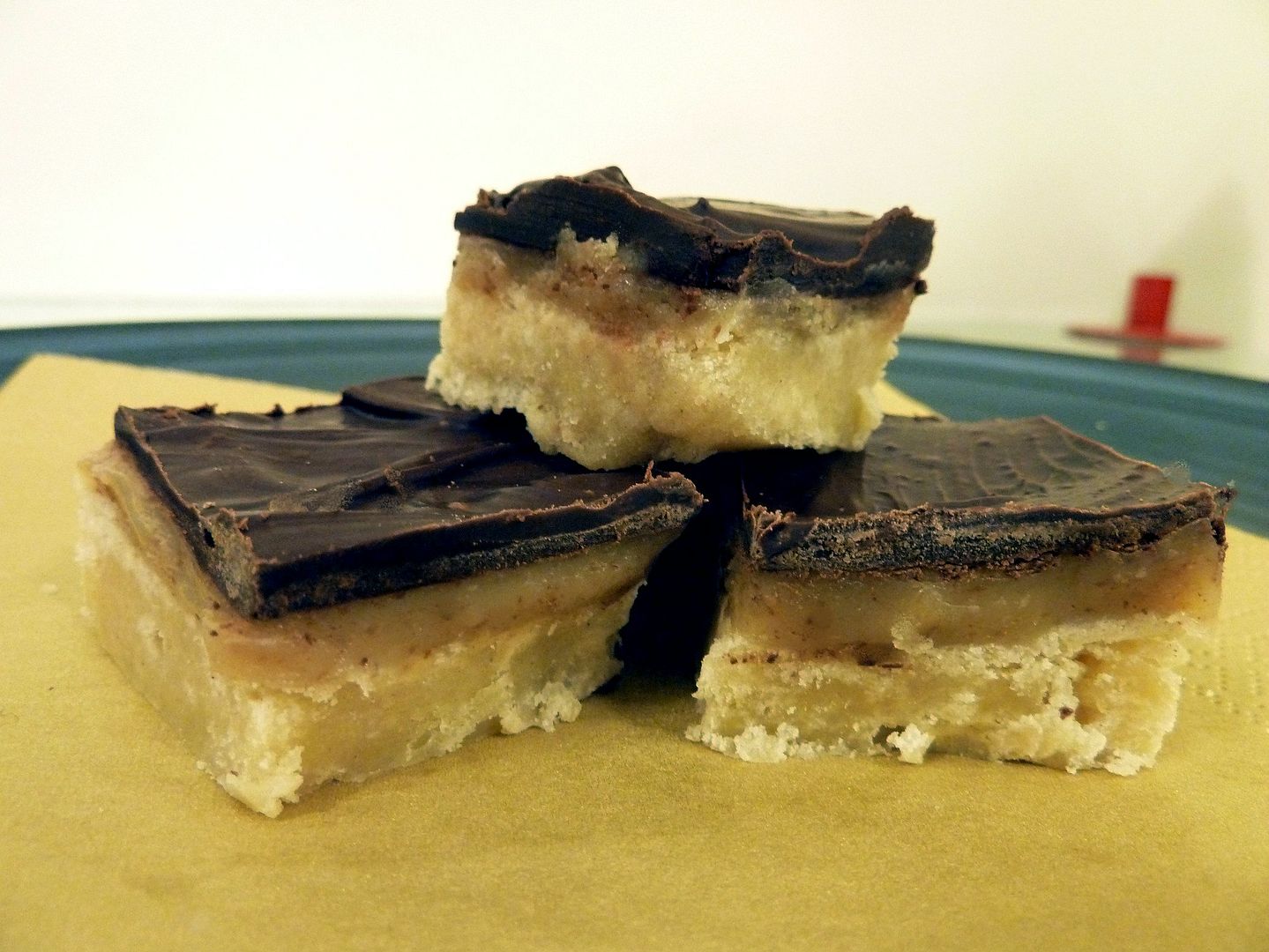 If you are in need of a treat, or even if there is someone special who is deserving of a little love… make these! You'll thank me later. Crunchy, buttery shortbread, sweet, salty, gooey caramel and slightly bitter dark chocolate… Its a dream! I make these for my young man (fine, that might be a little excuse! We all know they're for me really!) every so often as a little pick me up and it always works a treat.
Ingredients
for the shortbread base
250g plain flour
75g of caster sugar
pinch of salt
teaspoon of polenta or semolina grains
175g of soft butter
for the caramel
50g butter
50g soft brown sugar
1 397g tin of condensed milk
for the topping
200g chopped chocolate (I think dark is best)


Method
Preheat the oven to 180c. Grease a 13×9 inch tin or tray (I use my pyrex lasagne dish) with soft butter
For the shortbread base
Mix the flour, sugar, semolina and salt in a large bowl. Then rub in the butter as if you were making a crumble. When it is all like breadcrumbs, pour the whole lot into the tray and press it down. Prick the surface with a fork in a few places and then pop into the oven for 20 minutes. It will be a pale golden. take it out and leave it to cool
For the caramel
Do this after the shortbread has cooled a little bit. Put the butter and sugar together into a saucepan over a low heat. When the butter has melted, give it all a quick stir and then add in the whole tin of condensed milk. Then let it gently bubble while you stir it. Lots. It will get thicker and darker in colour until it is a deep, well, caramel colour! Then you can pour it all over the top of your shortbread layer, spread it out and then lick the spoon happily
For the topping
I reckon you can guess this step… Melt the chocolate and spread it over the top of the caramel!
Then place the whole lot somewhere to cool and set. When your chocolate is solid, you can slice it all up into squares and enjoy!
I warn you, these are addictive!
Some ideas
Sprinkle the top of the caramel with coarse sea salt or fleur de sel for an extra kick
You could flavour the shortbread with something fun. like rose or lavender for an extra girly treat
Wrap a few of these in cellophane bags as little gifts for friends
Have a few with a big hot mug of tea and a magazine- treat yourself

Let me know if you try it out! Although, if you then feel the need to make them at least once a week, please don't blame me!
xxx