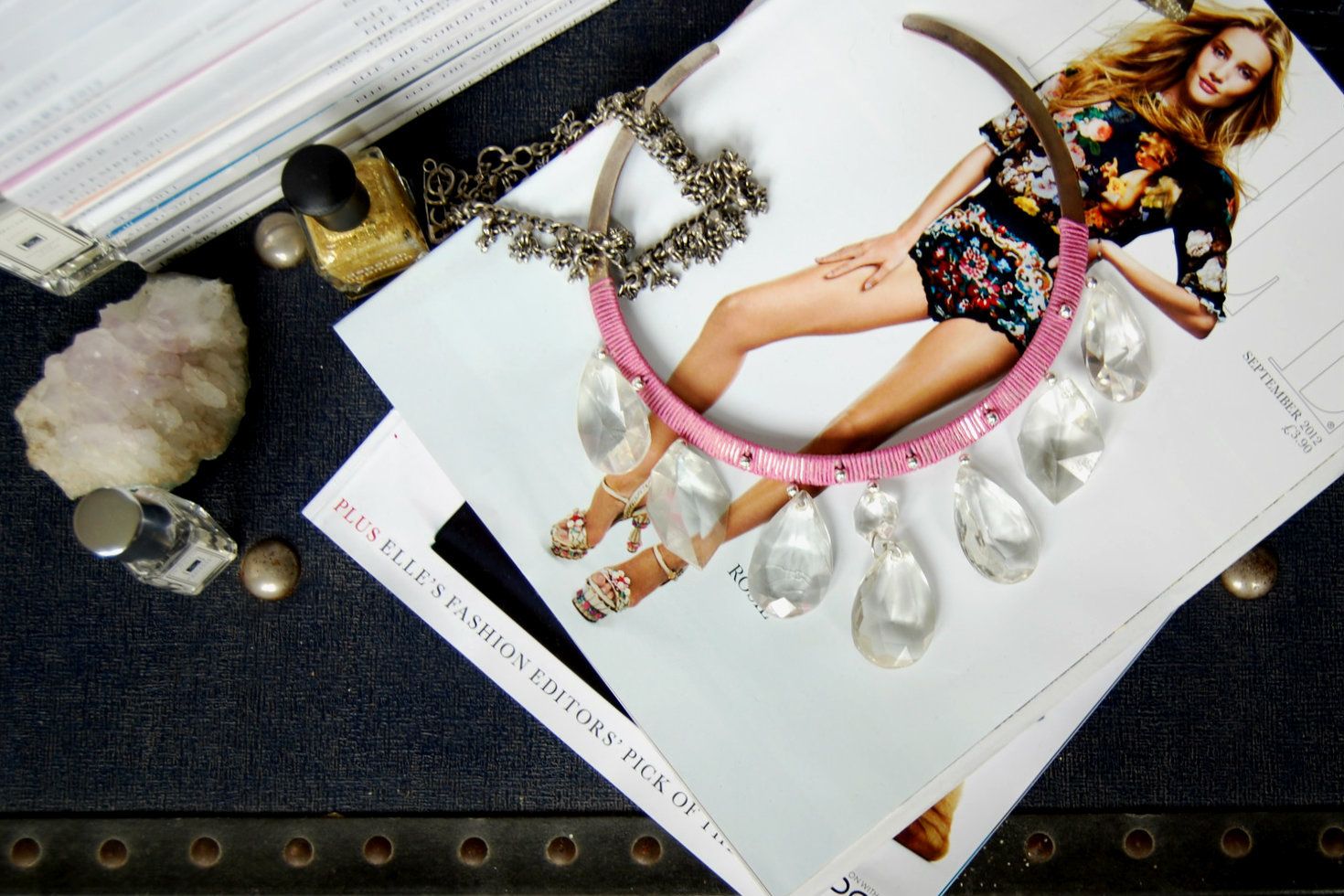 You may have noticed this… but I'm a big fan of statement jewellery pieces. I lust after the amazing bib collars from Dannijo! A simple outfit can be given a whole new lease of life with the addition of one gorgeous piece. While that's amazing, the problem with statement jewellery is that it often can't be worn that many times because it is so identifiable. So my logic is always why not hold back on spending a fortune and have a little DIY session? As I was clearing out the house I cam across some antique crystal drops, clearly from a broken chandelier or something of the like. Lord only knows why we had a little bowl of those, I'm not even going to try and guess seeing as we've never had any sort of chandelier/ crystal home decoration! Anyway, they were pretty and I really wanted to incorporate them into something I could wear: queue a little pinterest session, i.e. the wonderland of inspiration, and my statement necklace ideas were born!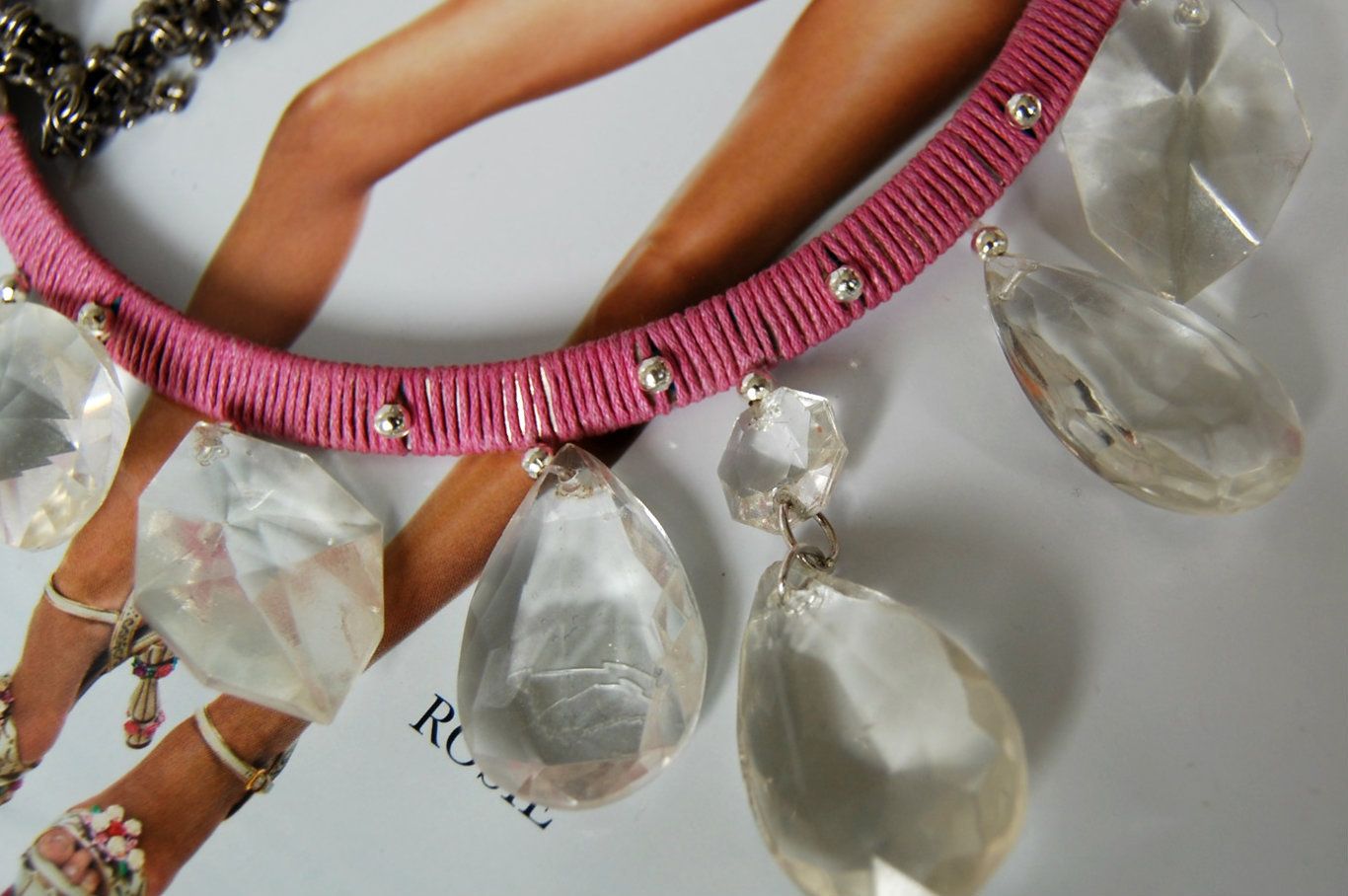 I have to say I am completely in love with how this turned out. And if you fancy seeing how its done so you can have a go yourself, then there's full instructions after the jump!

what you need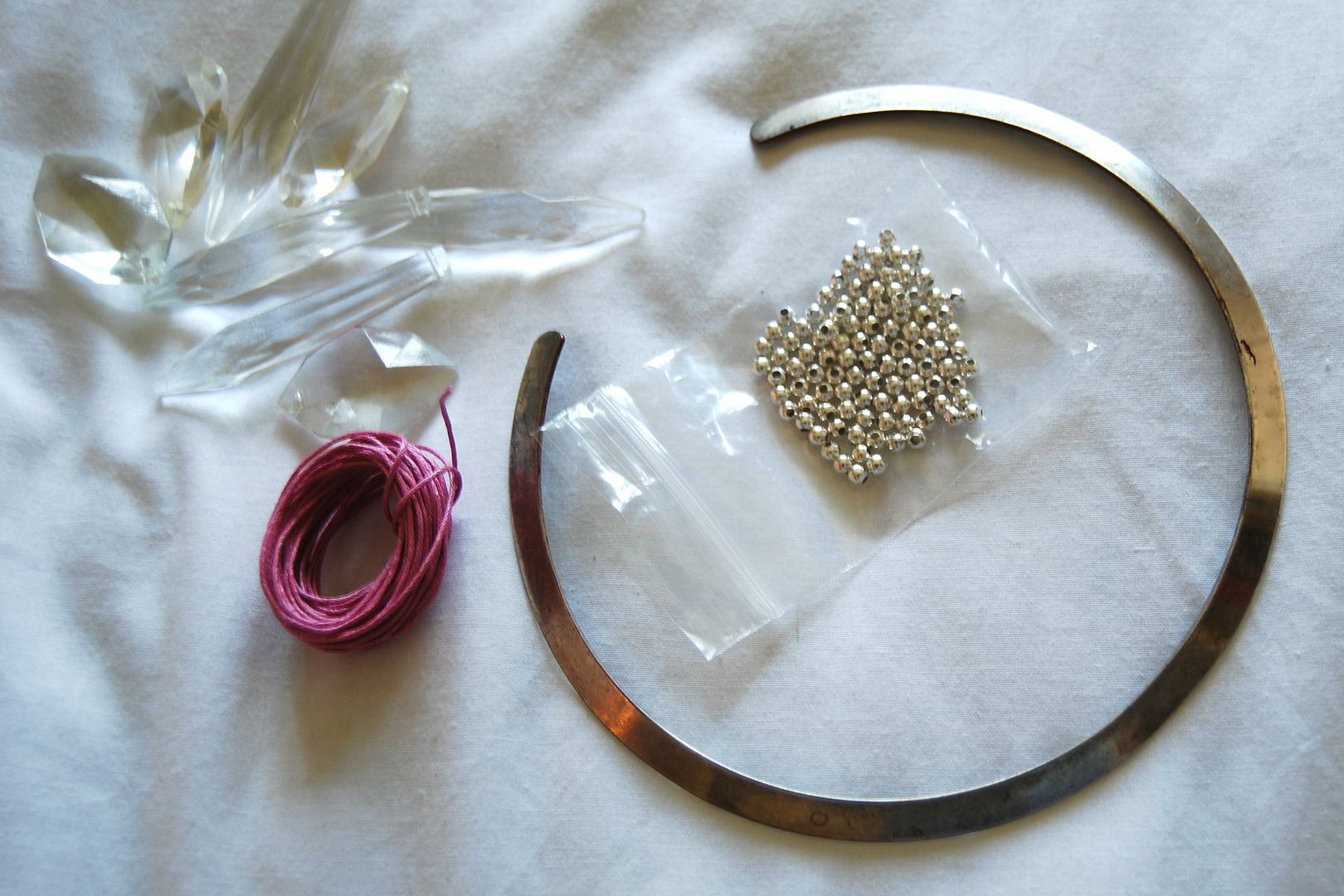 As always, everything can be found really easily on ebay and etsy, or in any good craft shop.
a simple collar necklace like this or this. I bet you could do this with a simple plastic hairband too!
3- 4m of waxed cotton cord, in colour of your choice
gold or silver spacer beads (optional)
clear nylon thread and needle
crystal drops (there are load on
etsy and ebay for around a fiver)
what to do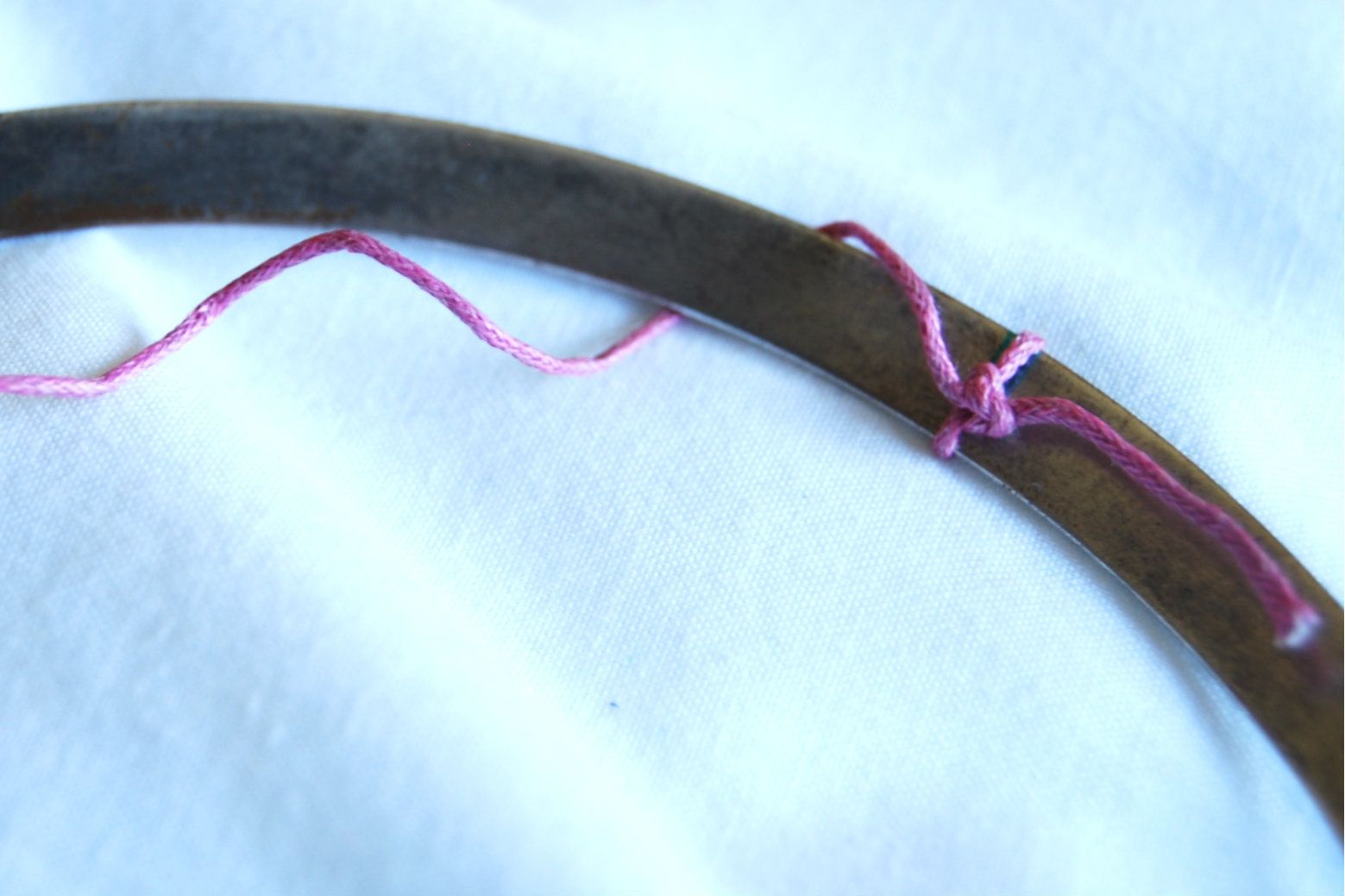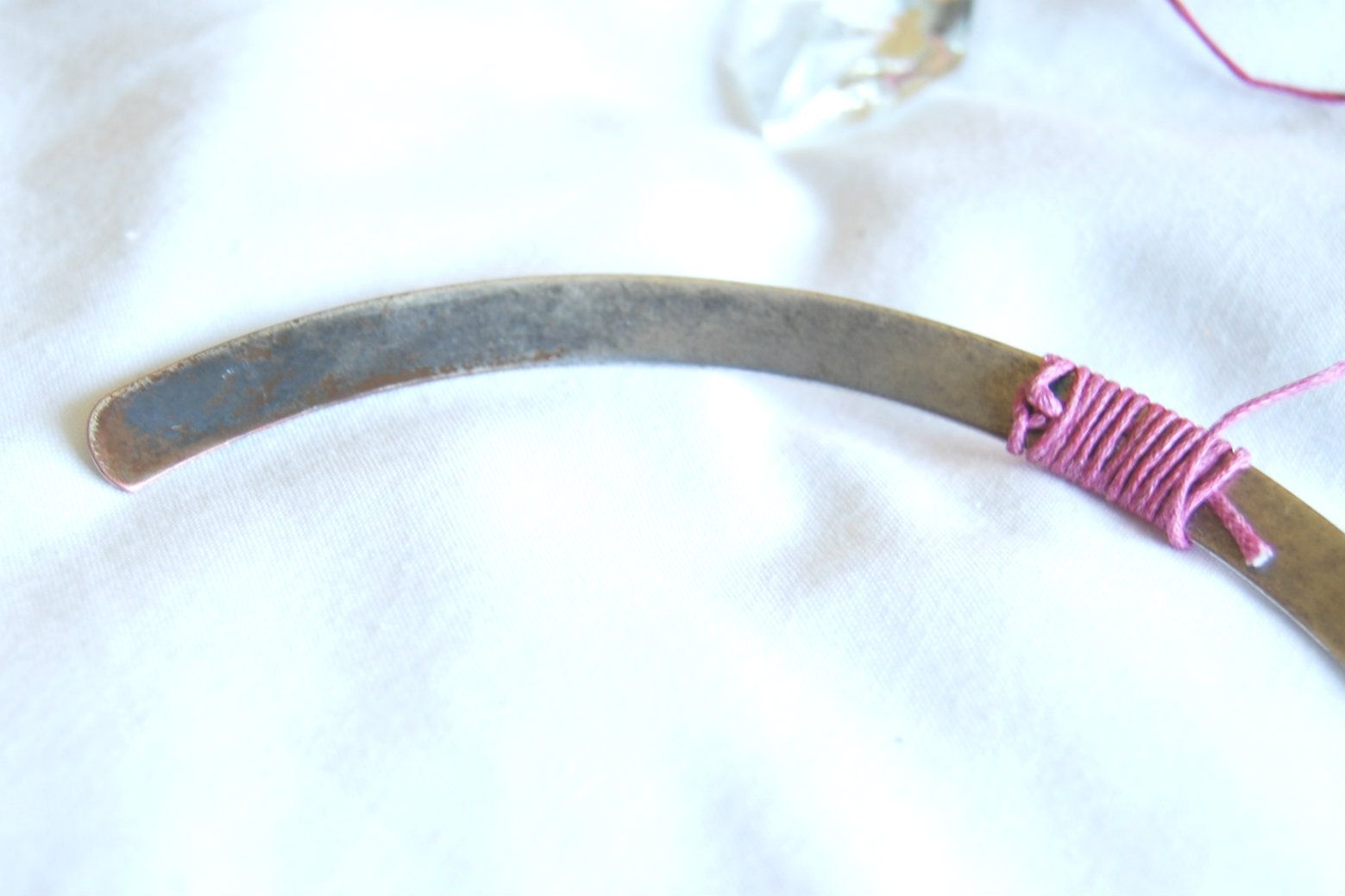 First you need to wrap your necklace. Tie your cotton tightly in a knot around your necklace, with the knot facing the underneath, at a point at least 5 cm from the end of the necklace. Then you can start wrapping the cord around and trapping the stray thread from the knot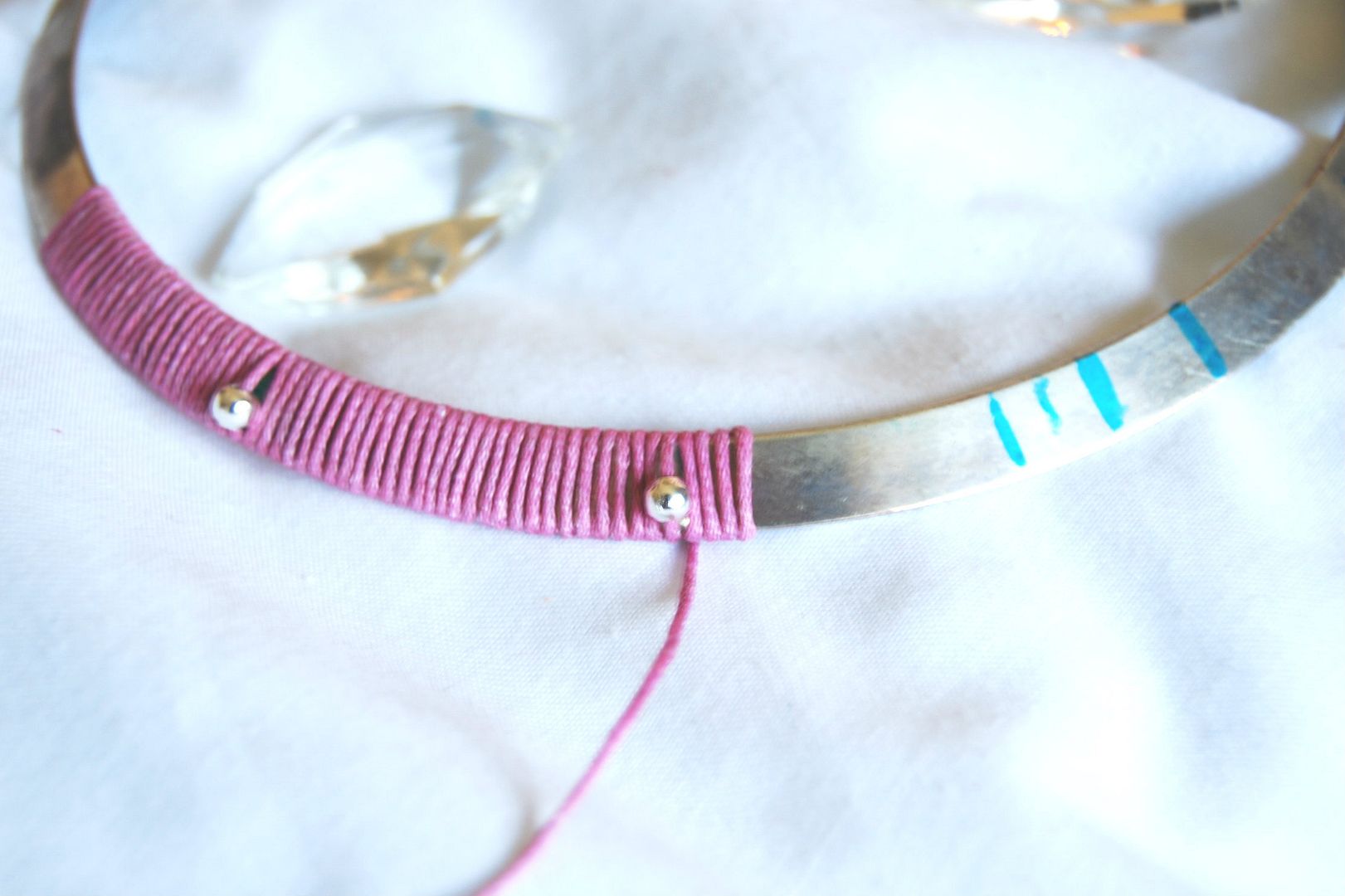 If you want to add extra embellishments other than the crystal drops, then mark out with a felt tip or sharpie onto the necklace where you would like them, I did mine about 3 cm apart, measuring with a tape measure. As you wrap, when you reach the point of a mark, add a bead and continue wrapping.
Once you have wrapped up until the same distance on the other side of your necklace, tie off your cotton in a tight knot, and tuck the loose thread under your wrapping with a needle.
Then you are ready to get on with attaching your crystals!
As with the beads, work out where you want your crystals to hang. I chose for mine to hang in between the space beads I put in the wrapping, with the longer crystal in the middle. Have a play about with your order and see what you like best!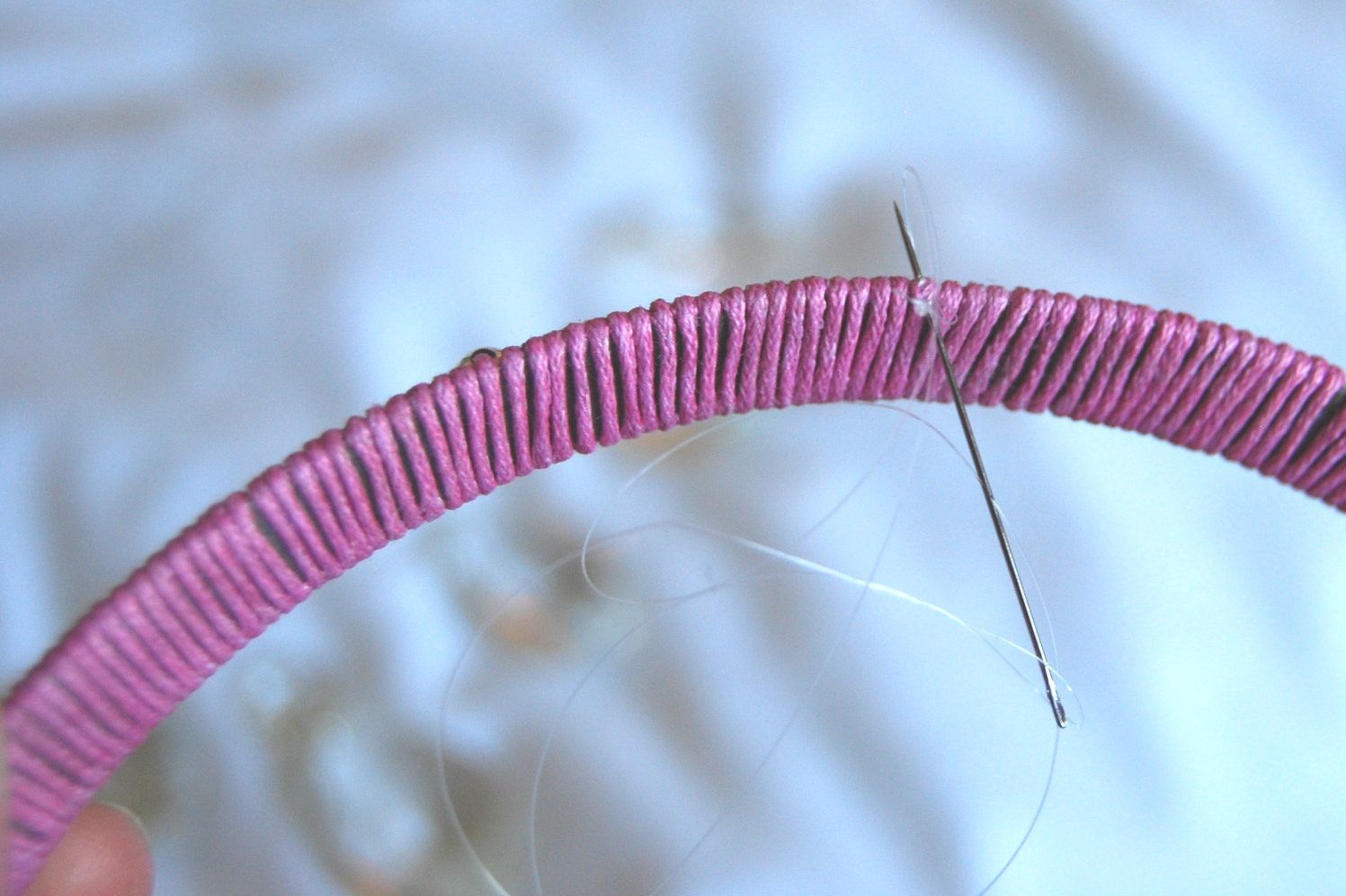 Then you just need to get sewing. Using the nylon thread, sew the crystals onto the cotton cord wrapping. I added a spacer bead in too so that the crystals would hang loosely, just sewing through the bead too. The joy of nylon thread is that its very strong, but also you can be an atrocious sewer and no one can see!! To secure your stitches, sew in the same place at least three times through the cord on the underneath of your necklace before cutting your thread. Then just rinse and repeat for all the other crystals!
And with that, tada! You have a new, gorgeous DIY statement jewellery piece!
some ideas
for extra detail, why not sew on a few layers of plaited and woven cord, in different colours too?
paint your crystals for an extra splash of colour – you can see how in another DIY of mine here
want to see a bit more metal? why not just wrap the sections you want to attach a crystal to, and leave the rest of the necklace bare
xxx
Like what you see? You can follow me here:
twitter // bloglovin // gfc // facebook