lusting after: a new autumn wardrobe. I can't stop thinking about burgundy, grey and black, with a whole load of mixed metal acessories. It seems after a summer of light colours I'm craving dark and moody!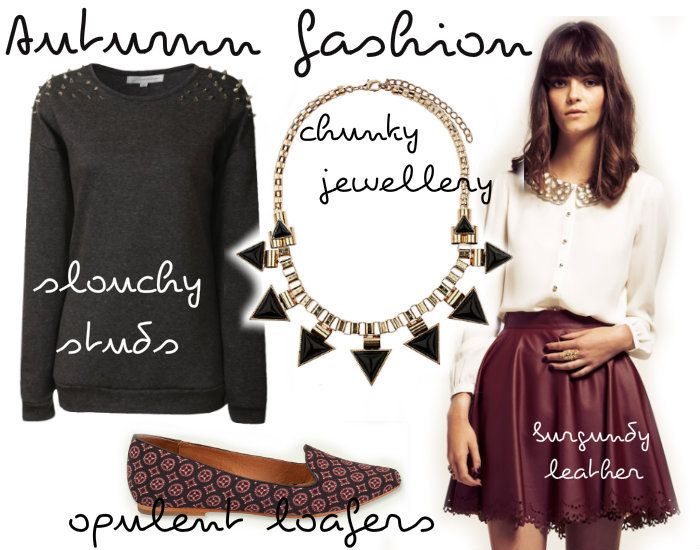 studded sweatshirt: Glamorous; patterned loafers: Joie; necklace: Topshop; leather look skirt: Dahlia
eating: this delicious homemade granola from Joy the Baker's recipe, with greek yoghurt and berries for breakfast
*picture from Joy the Baker*
daydreaming about: pretty bedrooms. I'm in the middle of reorganising and decorating mine right now! I keep thinking of white walls, thick comfy bedding and a touch of colour. Bliss
*photo from here*
loving: a whole ton of lovely blogs! I saw Hayley's #wkndbloglove idea on twitter and think its so great. I read so many fab blogs and its nice to give people credit for doing something so well. So, each week I'll be choosing a few I love. Go check these ladies out, I can assure you you'll be browsing for a while!!
Ella's blog always makes me smile- full of dreamy photos and her beautiful illustrations. Its like a dream land! Her recent Paris trip just looks so perfect.
Weronika at Rasperry and Red is just amazing. Her outfits and her photos are incredible, and a flick through can always give me some inspiration. Plus she's only 17! God, I wish I had been half as cool at her age!!
Bee's blog vivatramp is full of lovely photos and tales. She's had a pretty tough time of it recently and never ceases to amaze me with her positivity and strength. Also, her book reviews always make me add to my amazon wishlist! Beauty and brains, what a combo!
Anyhow, I hope you've had a fab weekend! Tell me some of the things you've been up to this week, I'd love to know. I'm off to go paint my room!
xxx
Like what you see? You can follow me here:
twitter // bloglovin // gfc // facebook