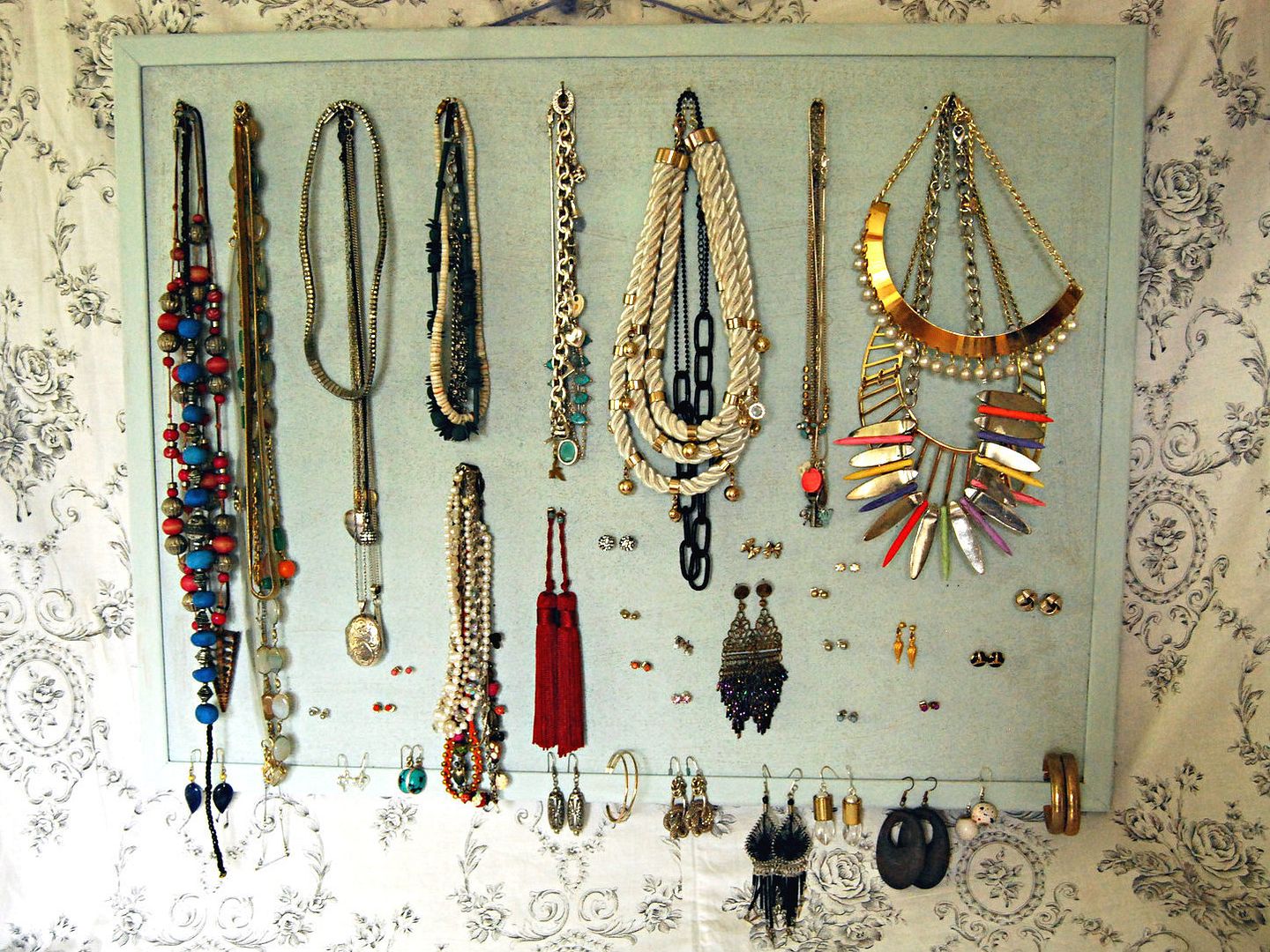 Anyone who knows me, knows that I love my jewels! I've always felt that good accessories can take a simple outfit to being a bit more special. As a result I seem to have managed to build up quite a mass of bits and pieces over the years that I love, which have all been residing in boxes of various sizes since we moved. Now, I have finally managed to get my home office in some sort of order (eep!! update on that soon) and so this weekend felt like a good time to get on with creating a proper home for my jewellery. I've looked at buying jewellery storage and come across problems with most of it- that its pricey, that it isn't big enough, that things still get tangled or forgotton about in them… So whats a girl to do but go ahead and make her own!?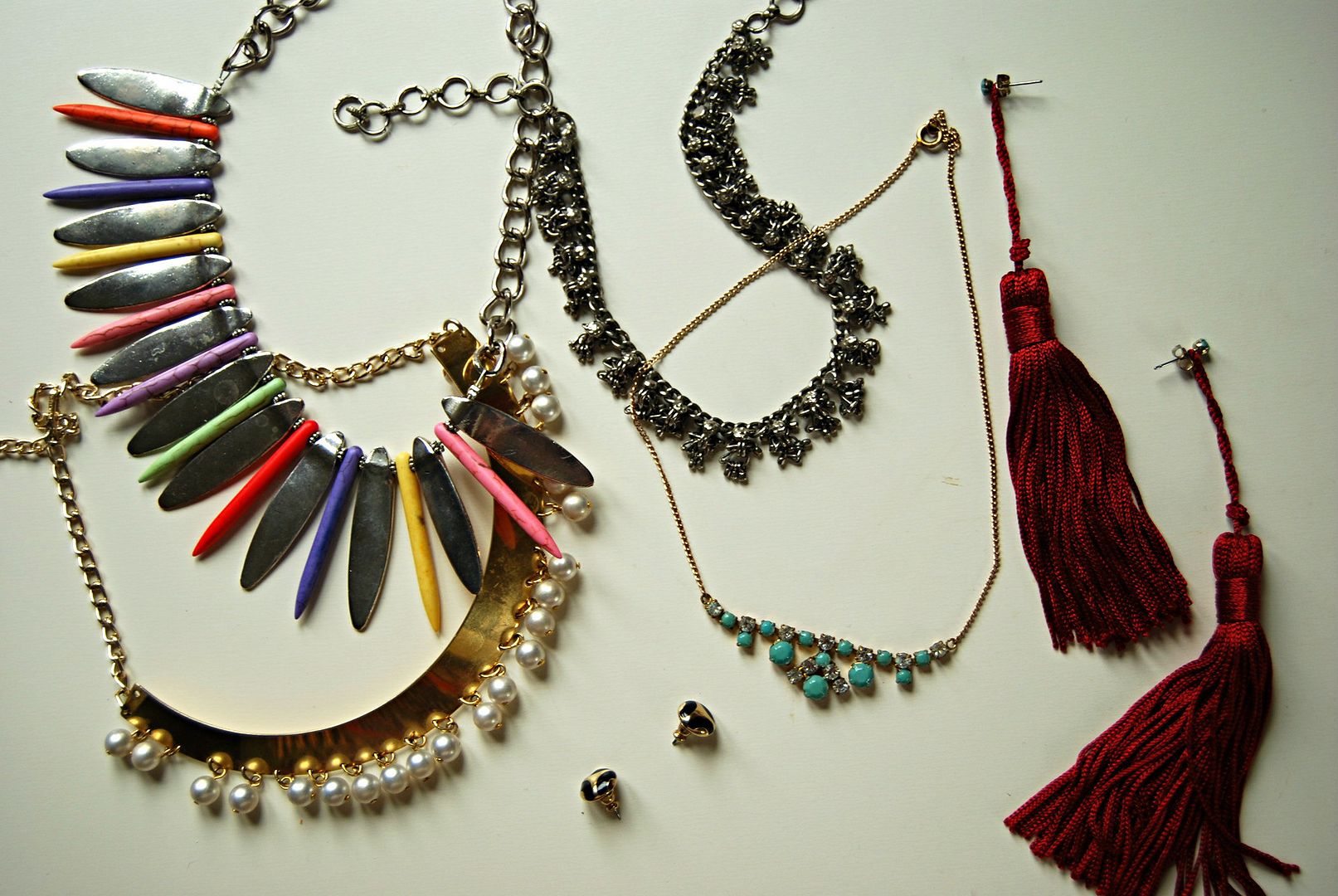 Some current favourites that have been on repeat. Clockwise from bottom left- gold pearl collar: vintage; silver and pastel spike necklace: gift from France; silver necklace: vintage via my sister; painted crystal necklace: DIY; Tassle earrings: DIY after Geneva's; black and gold studs: vintage via my mama.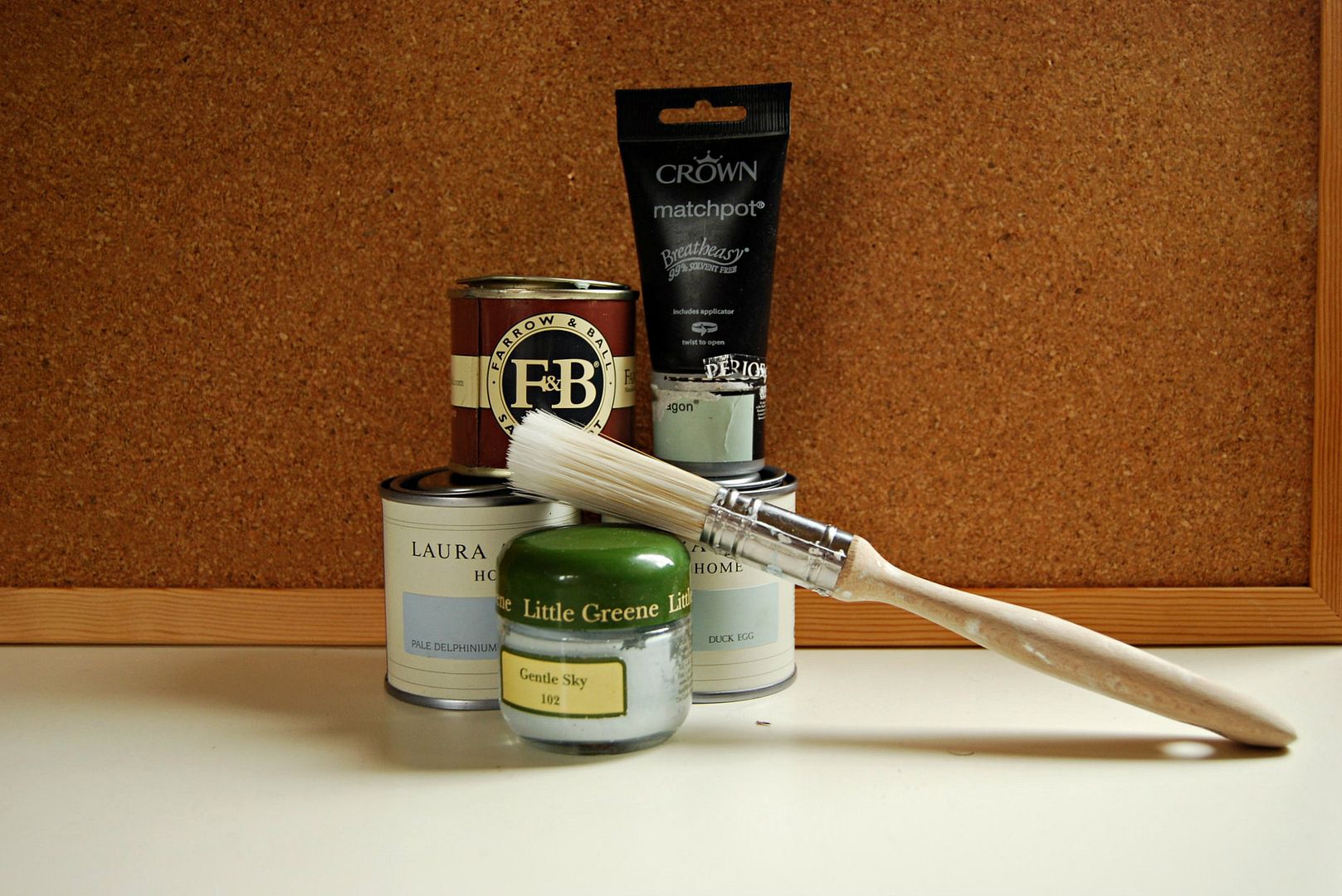 What you'll need:
a cork pinboard (like this one), a paint tester pot in the colour of your choice (we always have tons hanging about from trying to make decorating decisions!), and some push tacks (I like these clear ones or these white ones).
What to do:
Its pretty self-explanatory. First, paint your corkboard, not forgetting the edges, and leave to dry. My colour was a mix of all these testers above, making a lovely minty green. You wouldn't need that much paint but I've got plans for my leftover paint 🙂 As soon as its dry, you can get started with the pins! You can put them in however best for your jewellery. I knew I would have some long necklaces, some very short necklaces and some wide, collar style necklaces, so I placed my pins in different spots to allow for that. Once your pins are in, that's it! Ready to hang all of your necklaces off. I also hooked all my dangly earrings along the bottom edge of the frame, and pushed my stud earrings into the cork too.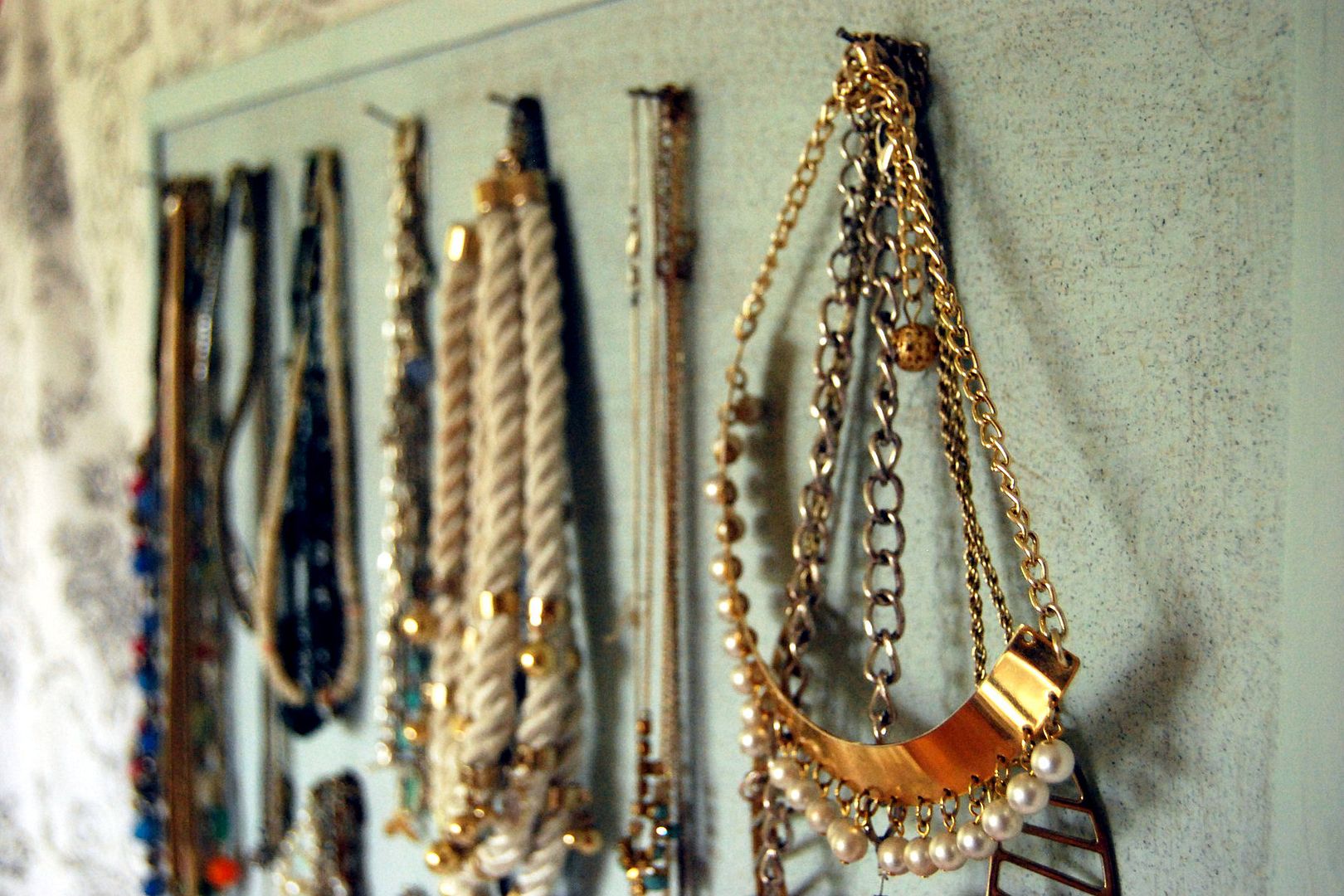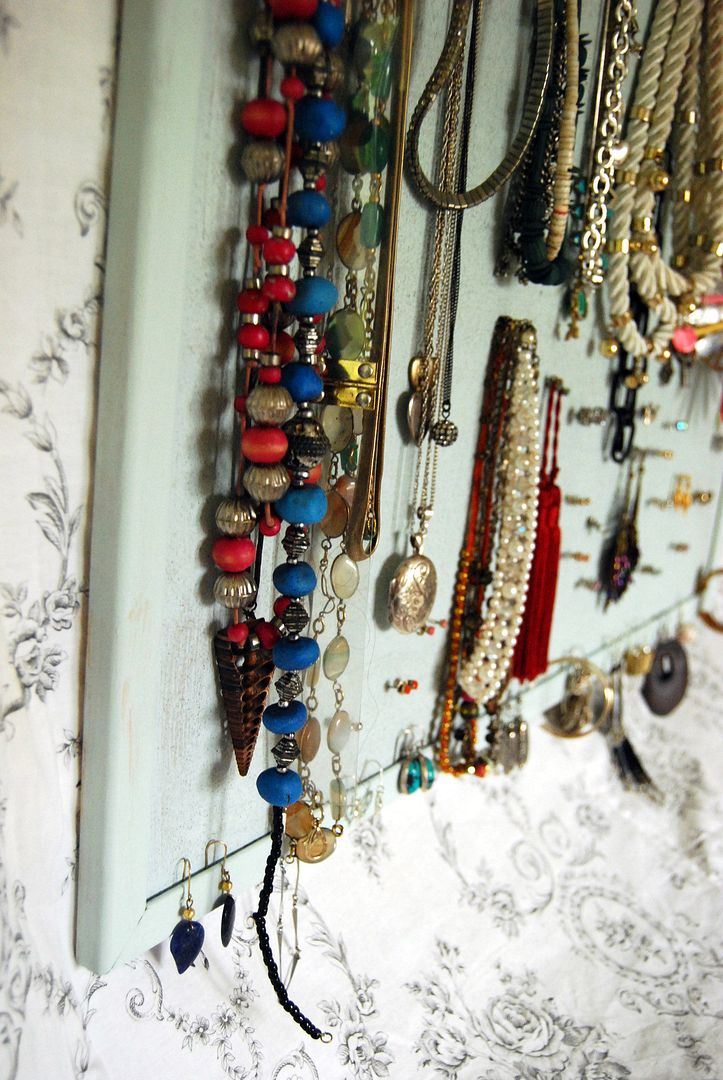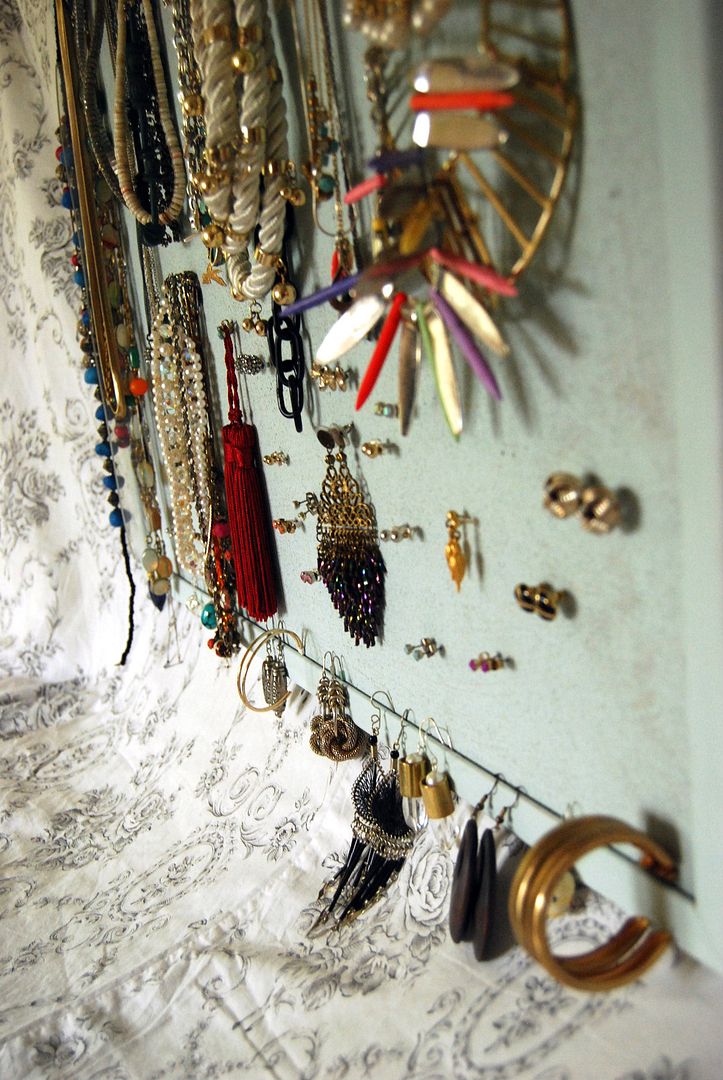 I've got to say, I love this DIY. Its cheap and very quick, plus it looks after my jewellery. I always find hanging necklaces to be the best way to avoid tangles and breakages. This is pretty sturdy too- you can see I've got some fairly big necklaces hanging off them and its all holding up fine. Now all of my earrings and necklaces are easy for me to see and hopefully wear instead of leaving to gather dust in a pile. As a bonus, it looks very pretty on my wall too! Now just to find a way to store my bracelets, and I'm done. How do you store your jewellery? Has this inspired you to have a go at DIY-ing a solution?
xxx
Like what you see? You can follow me here: