Remember remember the fifth of November
Gunpowder, treason and plot.
I see no reason why gunpowder, treason
Should ever be forgot…
Its November! So we can stop thinking about Halloween and move onto the real fun stuff – Bonfire Night! I love bonfire night. There is something so British about having a celebration at the end of Autumn, usually in the rain and the cold, with explosives and fires, all to remember when Parliament was nearly blown up! Plus, its one of those things that always makes me feel like a kid again. Our school used to have a Bonfire Night every year. It was such an adventure to be able to step away from your parents for the evening, eat caramel apples and wave sparklers about whilst your fingertips turned blue and your nose red, all before clambering onto various roofs or shoulders of fathers for the best views of the firework display. I still get a silly little bit of excitement about the smells of woodsmoke and cordite. I'm hoping to go to the village bonfire night on Monday (as long as it isn't washed out!) but before then I thought I'd celebrate with some fireworks on the tips of my fingers 🙂
What you'll need: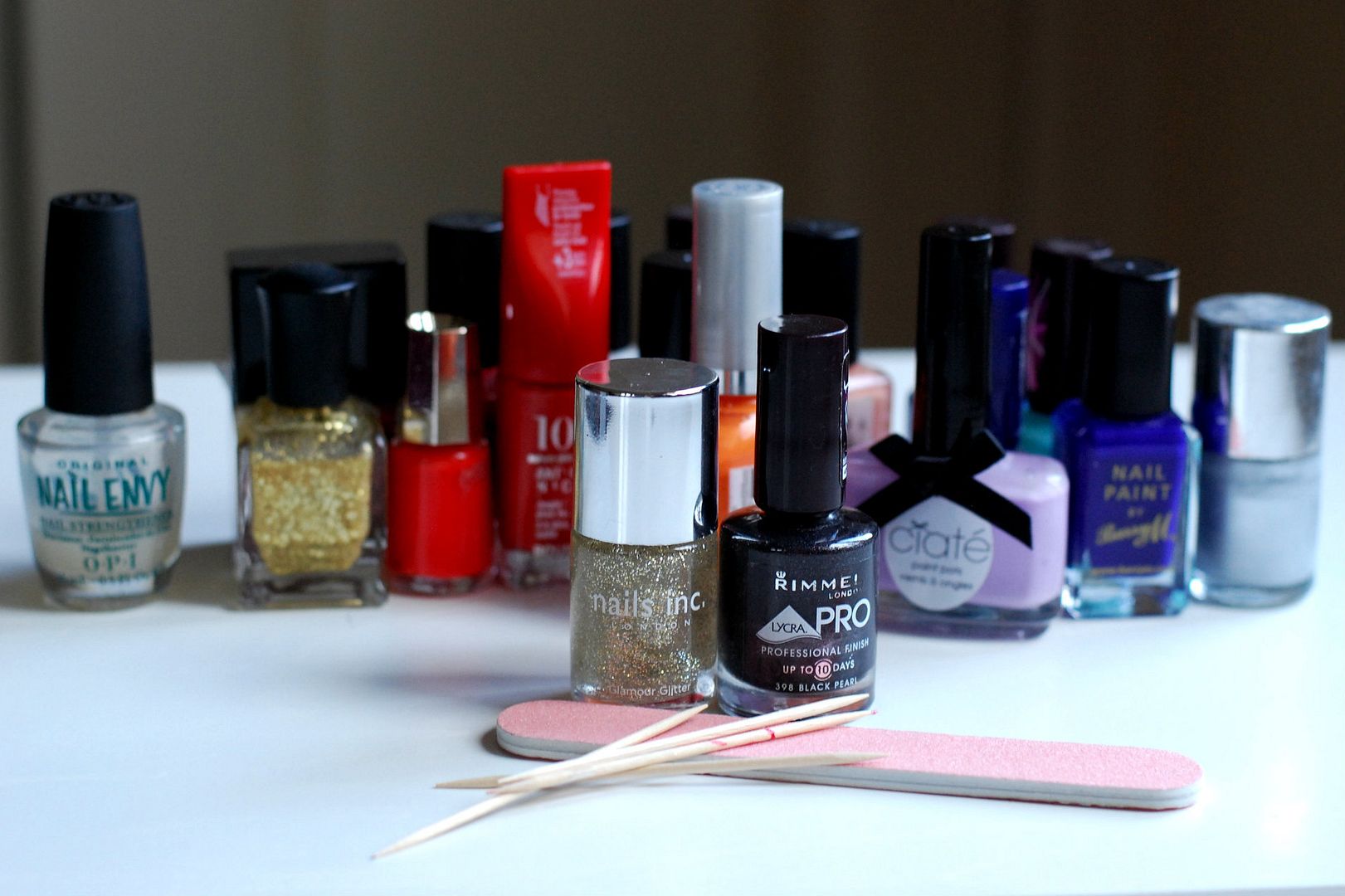 a dark base colour
as many colours for the fireworks as you can pull out of your drawers!
toothpicks
a surface like an old magazine or paper plate for putting drops of your varnish on
What to do:

First, paint your nails in a coat of your base colour. I chose a black, but a dark blue or deep purple would be great too. Your base will be your night sky!

Once your base colour is dry, you can get started on the fun stuff. I did each nail one by one and picked different colour groups for each firework- pinks or blues or reds etc.
Starting with the lightest colour, drip some polish onto your magazine or plate. Then you can dip your toothpick into it and dot the polish close together onto your nail for the centre of your firework. Then you can space out your dots further out from the centre, imitating the explosion of a firework.
Next, choose another brighter colour and dot it over the top of what you've already done. Remember to space your dots out more on the edge of your firework. I found it worked best to start with lighter colours and add in darker ones. Use as many colours as you like!
Do some fireworks off-centre, with their 'core' at the base, tip or side of your nail, or do a couple of smaller, overlapping fireworks.
I also dotted some larger glitter pieces into the centres of some of the fireworks, before using a fine glitter topcoat over the top of all of the nails for a little extra sparkle!

What are you going to do for Bonfire night? Are you headed to see any celebrations? Even if you're staying warm inside, why not go ahead, eat a toffee apple and paint a little party on your nails!?

xxx
Like what you see? You can follow me here: