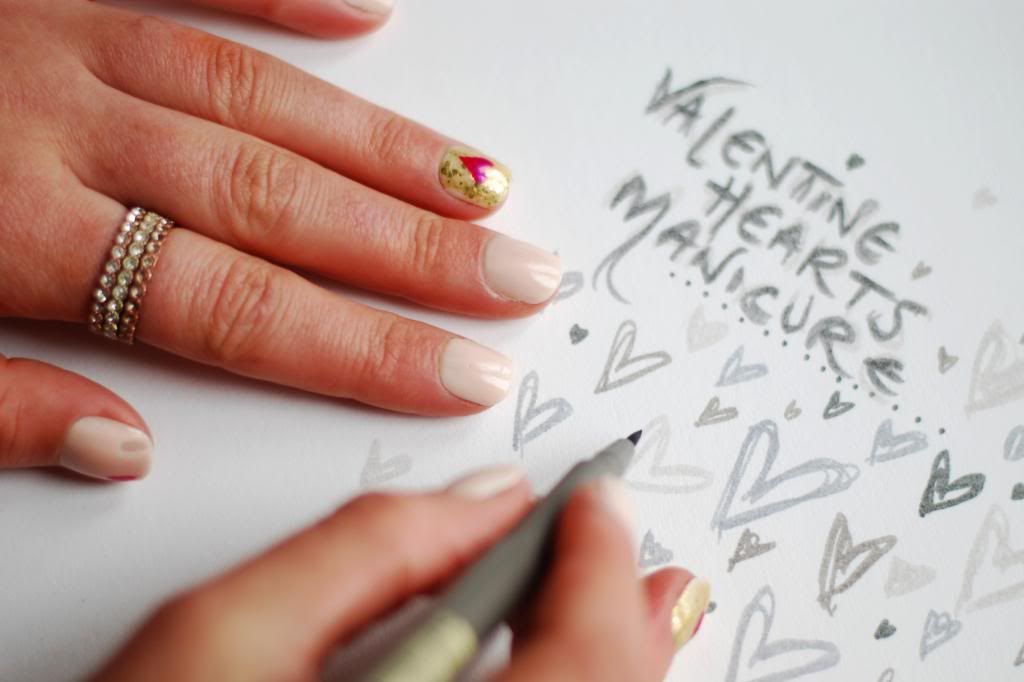 Blush pink- Maybelline Forever Strong in Franch Mani 76; Gold glitter – Deborah Lippman's Boom Boom Pow; hearts – Mavala Candy Pink; Topcoat – Sally Hansen's Double Duty
February- the month of love! I know we are all meant to hate Valentine's for being a huge commercial piece of crap. But I can't help it, I have a soft spot for it! I like an excuse to pull out the girly items from my wardrobe, to make sweet cards and presents for those I love, and of course, paint little hearts all over my fingernails! This is the easiest, prettiest way to show a little valentine spirit, and it makes me smile- what more do you need?
P.S.- a tip for all those pale blush varnishes? Paint a coat of white polish underneath and it makes them opaque in far fewer coats. Au revoir to streaky nude nails or smudges from too thick application!
P.P.S. – Are you on Vine? I'm loving making silly videos of animals, accessories and mani's, even though I was suspicious at first. Its fun! My username is Laura – Chambray and Curls if you're interested
xxx
Like what you see? You can follow me here: