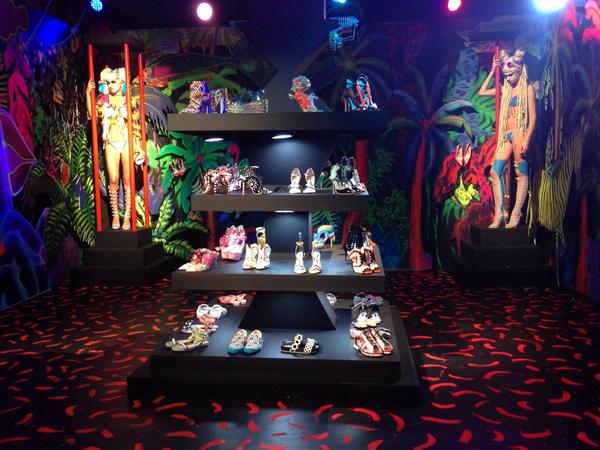 I'm pretty much certain that fashion week (month?) is what  September that excited, back-to-school feeling, regardless of how long ago we left our studies behind us. All of the new, shiny, exciting things literally get paraded before our eyes and you can't help but get caught up in it, right? I've always loved the fashion month buzz, waiting for the photos of collections, watching the runway walks and laughing at the chaos of the photographer pits. But things have changed for me over the last few years. Yes, I love the clothes. But oh goodness, the sets. Two years working as a set designer and I find myself so darn distracted by the sets! Seriously. Did you see the painting going on at the Sophia Webster presentation? Spinning fluro wire teacups at Any Hindmarsh? Ryan Lo's underwater world? So many heart-eye emojis. The whole thing has the magic of theatre.
I guess that I am beginning to acknowledge and truly love the whole hubbub of creativity that goes along with building a collection. It feels like we have moved lightyears away from models simply walking down a runway, instead creating whole worlds. Instead you start seeing the input of make up artists, hair stylists, set designers and builders, painters, lighting technicians, sound technicians… the list goes on… I guess the more cynical could say this is all just part of pulling us in as consumers, and sure, that side definitely works. Some people will feel like this is all just a circus that takes away from the actual products, the clothes. I mean, that's what fashion is meant to be all about, right? But I can't help but admire the sheer scale of creative collaboration. It feels like this whole world is evolving into something where creative talents are getting the chance to be recognised and nurtured.
What do you think? Have any shows captured your heart this September?
xxx
Like what you see? You can follow me here:
twitter // bloglovin // gfc // facebook
(P.S. click on the images for their sources)